China Regulator Seizes Anbang, Chairman Faces Fraud Prosecution
[et_pb_section bb_built="1″ fullwidth="on" specialty="off" background_image="https://www.newsoncompliance.com/wp-content/uploads/2018/03/47368546contentPhoto1.jpg" parallax_method="off" module_class="blog-header" background_color="#ffffff" _builder_version="3.0.98″][et_pb_fullwidth_post_title title="on" meta="off" author="on" date="on" categories="on" comments="on" featured_image="off" featured_placement="below" parallax_effect="on" parallax_method="on" text_orientation="center" text_color="light" text_background="off" text_bg_color="rgba(255,255,255,0.9)" module_bg_color="rgba(255,255,255,0)" use_border_color="off" border_color="#ffffff" border_style="solid" custom_padding="100px||80px|" title_line_height="1.6em" parallax="on" background_color="rgba(255,255,255,0)"]
[/et_pb_fullwidth_post_title][/et_pb_section][et_pb_section bb_built="1″ admin_label="section" transparent_background="off" allow_player_pause="off" inner_shadow="off" parallax="off" parallax_method="off" custom_padding="20px||20px|" make_fullwidth="off" use_custom_width="off" width_unit="on" make_equal="off" use_custom_gutter="off" module_class="blog-content-wrapper"][et_pb_row background_position="top_left" background_repeat="repeat" background_size="initial"][et_pb_column type="2_3″][et_pb_text background_layout="light" use_border_color="off" module_class="blog-text" background_position="top_left" background_repeat="repeat" background_size="initial" _builder_version="3.0.98″]
China's government seized temporary control of Anbang Insurance Group Co. and will prosecute founder Wu Xiaohui for alleged fraud, cementing the downfall of a politically connected dealmaker whose aggressive global expansion came to symbolize the financial overreach of China's debt-laden conglomerates.
The surprise move furthers President Xi Jinping's anti-corruption and de-leveraging campaigns while providing a government backstop for the high-yield investment products that Anbang sold to hordes of Chinese citizens. It suggests that after months of clamping down on acquisitive tycoons, China is increasingly focused on insulating the economy from their shaky finances.
It's a remarkable turn for Anbang, which burst onto the global scene in 2014 with the purchase of New York's Waldorf Astoria hotel and only a year ago was in talks to invest in a company owned by the family of Jared Kushner, U.S. President Donald Trump's son-in-law and senior adviser. With 2 trillion yuan ($315 billion) of assets, Anbang represents China's largest-ever takeover of a privately owned company.
"This is another step in China Inc.'s great unwinding," Brock Silvers, managing director at Kaiyuan Capital, a Shanghai-based multi-asset advisory firm, said in an email.
"Given the determination exhibited by Beijing, and the public example of Wu Xiaohui's cinematic implosion, China's 'crocodiles' will surely redouble their efforts to address their balance sheets," Silvers said, using a term for tycoons who engage in aggressive financial maneuvers.
Chinese authorities, who first detained Wu in June, announced the Anbang seizure just days before the ruling Communist Party was expected to meet behind closed doors to approve personnel appointments and government restructuring decisions. Xi's efforts to clean up the nation's gargantuan financial system have accelerated in recent months as he prepares to begin a second term as president at the National People's Congress in March.
Markets took news of the takeover in their stride, with the Shanghai Composite Index rising 0.6 percent on Friday. China Minsheng Banking Corp., one of Anbang's biggest equity investments, advanced 2.8 percent in Shanghai as the government's move eased concern about a potential firesale. Anbang, whose ownership structure has long been shrouded in secrecy, isn't publicly traded.
China disclosed the seizure in a statement on the insurance regulator's website Friday morning, while Shanghai prosecutors announced the charges against Wu. Here are some of the key takeaways:
The country's main financial regulators will take control of Anbang for at least a year; the decision was made after illegal activities at the insurer endangered the company's solvency.
Wu will be removed as chairman and charged with fundraising fraud and embezzlement; authorities didn't provide details of his alleged crimes.
Anbang's external liabilities won't be affected and the insurer's operations remain "stable."
The takeover may end in a year if asset disposals are completed, strategic shareholders have injected capital and the company is stable. Government control can be extended by as much as another year if needed, but Anbang will ultimately remain a private company.
A government-appointed takeover team will formulate detailed plans for changes in the company's shareholding structure, the sale of assets, any potential division of the company, and whether other insurers will be appointed to manage parts of Anbang's operations.
Anbang representatives didn't respond to calls seeking comment.
Under Wu, the insurer epitomized China's voracious appetite for overseas acquisitions, some of which came at prices that left observers scratching their heads.
Anbang acquired the Waldorf for $1.95 billion, the highest price for a single existing U.S. hotel. The insurer had discussed investing more than $400 million as part of a $4 billion transaction with Kushner Cos., a proposal that drew scrutiny from U.S. lawmakers citing ethics concerns. The talks ended in March 2017, with neither party offering an explanation for why.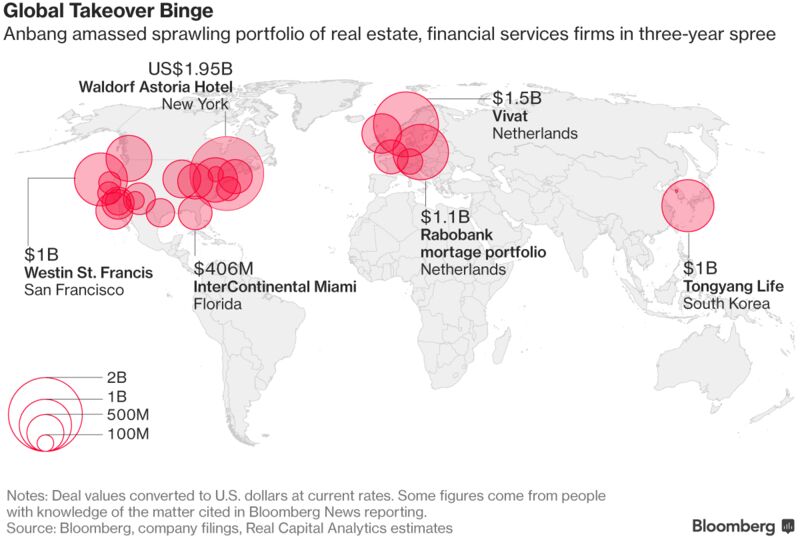 While little is known about Wu, his links to China's political elite became fodder for media scrutiny as his ambitions grew. He established ties with the family of reform leader Deng Xiaoping after marrying Deng's granddaughter Zhuo Ran.
Anbang's rise in recent years was remarkable even by the standards of China's booming insurance sector. And in many ways, the company's business model was among the industry's riskiest.
Much of Anbang's growth was tied to sales of short-term, high-yield products that the company used to fund purchases of long-term assets such as real estate — creating a duration mismatch that worried analysts and regulators. One of its products, called Anbang Longevity Sure Win No. 1, boosted its premiums almost 40-fold in 2014 by offering some of the juiciest yields in the industry.
Anbang has since been squeezed by China's twin clampdowns on overseas investment and financial risk, part of Xi's effort to stem capital outflows and put the world's second-largest economy on a more sustainable long-term growth path. The Chinese leader has also helmed a broad anti-corruption campaign that's swept up everyone from business leaders to top party cadres.
This isn't the first time Chinese regulators have had to step in when an insurer ended up in trouble. In 2007, the government tapped an industry protection fund to take control of New China Life Insurance Co. by buying a major stake in the insurer, after its former chairman Guan Guoliang misused funds.
China also bailed out large state-owned banks in the 1990s at a cost of more than $500 billion, though the terms of that intervention were much different than those imposed on Anbang.
As for the insurer's collection of businesses around the world, its new government overseers said they will consider "all or partial" sales, without providing more details. Blackstone Group LP is already said to be looking at buying back some of the properties it sold to Anbang over the years, including the Waldorf.
[/et_pb_text][et_pb_text admin_label="Link/Source" background_layout="light" use_border_color="off" background_position="top_left" background_repeat="repeat" background_size="initial" _builder_version="3.0.98″]
Author: Dingmin Zhang, Alfred Liu, and Emma Dong
Source: Bloomberg
[/et_pb_text][/et_pb_column][et_pb_column type="1_3″][et_pb_code admin_label="Right Sidebar" saved_tabs="all" global_module="48″]Coming Soon[/et_pb_code][/et_pb_column][/et_pb_row][et_pb_row make_fullwidth="off" use_custom_width="off" width_unit="on" use_custom_gutter="off" allow_player_pause="off" parallax="off" parallax_method="off" make_equal="off" parallax_1="off" parallax_method_1="off" module_class="blog-more-articles-wrapper" background_position="top_left" background_repeat="repeat" background_size="initial"][et_pb_column type="4_4″][et_pb_text background_layout="light" text_orientation="left" use_border_color="off" border_color="#ffffff" border_style="solid" background_position="top_left" background_repeat="repeat" background_size="initial"]
Latest Articles
[/et_pb_text][et_pb_blog admin_label="Latest Articles" fullwidth="off" posts_number="3″ show_thumbnail="on" show_content="off" show_more="off" show_author="off" show_date="on" show_categories="on" show_comments="off" show_pagination="off" offset_number="0″ use_overlay="off" background_layout="light" use_dropshadow="off" use_border_color="off" border_color="#ffffff" border_style="solid" box_shadow_color="rgba(0,0,0,0.3)" box_shadow_style="none"]
[/et_pb_blog][/et_pb_column][/et_pb_row][/et_pb_section]