EU Hurt As US Flexes Sanctions Muscles
[et_pb_section bb_built="1″ fullwidth="on" specialty="off" background_image="https://www.newsoncompliance.com/wp-content/uploads/2018/05/05_sp_350.jpg" parallax_method="off" module_class="blog-header" background_color="#ffffff" _builder_version="3.0.98″][et_pb_fullwidth_post_title title="on" meta="off" author="on" date="on" categories="on" comments="on" featured_image="off" featured_placement="below" parallax_effect="on" parallax_method="on" text_orientation="center" text_color="light" text_background="off" text_bg_color="rgba(255,255,255,0.9)" module_bg_color="rgba(255,255,255,0)" use_border_color="off" border_color="#ffffff" border_style="solid" custom_padding="100px||80px|" title_line_height="1.6em" parallax="on" background_color="rgba(255,255,255,0)"]
[/et_pb_fullwidth_post_title][/et_pb_section][et_pb_section bb_built="1″ admin_label="section" transparent_background="off" allow_player_pause="off" inner_shadow="off" parallax="off" parallax_method="off" custom_padding="20px||20px|" make_fullwidth="off" use_custom_width="off" width_unit="on" make_equal="off" use_custom_gutter="off" module_class="blog-content-wrapper"][et_pb_row background_position="top_left" background_repeat="repeat" background_size="initial"][et_pb_column type="2_3″][et_pb_text background_layout="light" use_border_color="off" module_class="blog-text" background_position="top_left" background_repeat="repeat" background_size="initial" _builder_version="3.0.98″]
Primary sanctions restrict US companies from doing business with Iran. Secondary sanctions restrict US companies doing business with non-US companies who do business with Iran.
If these kinds of sanctions are applied aggressively, it could prove particularly painful for some of Europe's biggest companies.
Airbus has a $20bn order from Iranian airlines for nearly 100 planes. If Airbus wants to keep selling planes into the world's biggest aviation market, that deal – along with a similar-sized order for Boeing planes – looks dead.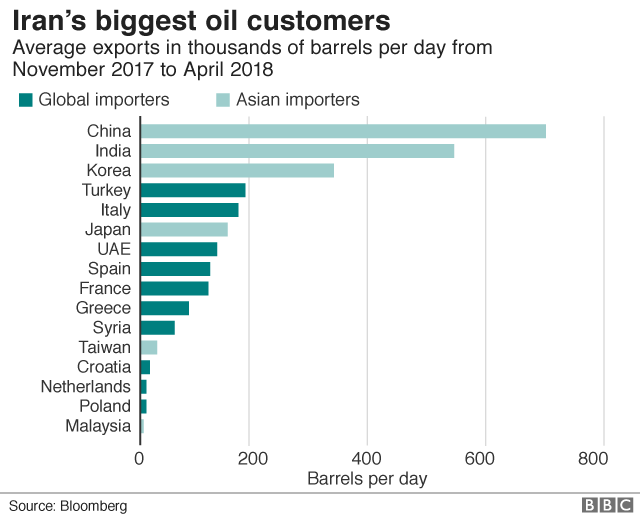 Some of the world's biggest oil companies were keen to pile into Iran when sanctions were lifted. Total of France, which has a big US presence, signed a $5bn dollar deal with Iran and will be hoping that French government intentions to challenge the US move at the World Trade Organization may salvage some of that.
BP has little involvement in Iran, but it has a 50-50 joint venture with the Iranian state oil company to operate the Rhum gas field, which supplies 5% of the UK's gas.
It is currently trying to offload its stake – something that will now become more difficult.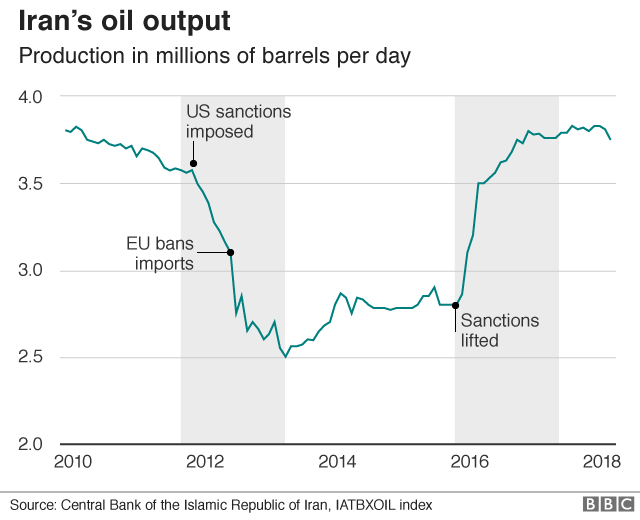 British banks HSBC and Standard Chartered have been hit in the past with huge US fines for doing business in Iran and were reluctant to go back in when sanctions were first lifted. That decision looks like a wise one now.
EU trade with Iran has nearly tripled, from $9bn in 2015 when sanctions were lifted, to $25bn. Unless the EU finds a way to keep this deal alive without ruining its own companies' business with the US, that could go straight back down again.
[/et_pb_text][et_pb_text admin_label="Link/Source" background_layout="light" use_border_color="off" background_position="top_left" background_repeat="repeat" background_size="initial" _builder_version="3.0.98″]
Author: Simon Jack
Source: BBC
[/et_pb_text][/et_pb_column][et_pb_column type="1_3″][et_pb_code admin_label="Right Sidebar" saved_tabs="all" global_module="48″]Coming Soon[/et_pb_code][/et_pb_column][/et_pb_row][et_pb_row make_fullwidth="off" use_custom_width="off" width_unit="on" use_custom_gutter="off" allow_player_pause="off" parallax="off" parallax_method="off" make_equal="off" parallax_1="off" parallax_method_1="off" module_class="blog-more-articles-wrapper" background_position="top_left" background_repeat="repeat" background_size="initial"][et_pb_column type="4_4″][et_pb_text background_layout="light" text_orientation="left" use_border_color="off" border_color="#ffffff" border_style="solid" background_position="top_left" background_repeat="repeat" background_size="initial"]
Latest Articles
[/et_pb_text][et_pb_blog admin_label="Latest Articles" fullwidth="off" posts_number="3″ show_thumbnail="on" show_content="off" show_more="off" show_author="off" show_date="on" show_categories="on" show_comments="off" show_pagination="off" offset_number="0″ use_overlay="off" background_layout="light" use_dropshadow="off" use_border_color="off" border_color="#ffffff" border_style="solid" box_shadow_color="rgba(0,0,0,0.3)" box_shadow_style="none"]
[/et_pb_blog][/et_pb_column][/et_pb_row][/et_pb_section]