Frenzy Of Fines For China's Banks Is Only Just Getting Started
[et_pb_section bb_built="1″ fullwidth="on" specialty="off" background_image="https://www.newsoncompliance.com/wp-content/uploads/2018/02/1200×800.jpg" parallax_method="off" module_class="blog-header" background_color="#ffffff" _builder_version="3.0.98″][et_pb_fullwidth_post_title title="on" meta="off" author="on" date="on" categories="on" comments="on" featured_image="off" featured_placement="below" parallax_effect="on" parallax_method="on" text_orientation="center" text_color="light" text_background="off" text_bg_color="rgba(255,255,255,0.9)" module_bg_color="rgba(255,255,255,0)" use_border_color="off" border_color="#ffffff" border_style="solid" custom_padding="100px||80px|" title_line_height="1.6em" parallax="on" background_color="rgba(255,255,255,0)"]
[/et_pb_fullwidth_post_title][/et_pb_section][et_pb_section bb_built="1″ admin_label="section" transparent_background="off" allow_player_pause="off" inner_shadow="off" parallax="off" parallax_method="off" custom_padding="20px||20px|" make_fullwidth="off" use_custom_width="off" width_unit="on" make_equal="off" use_custom_gutter="off" module_class="blog-content-wrapper"][et_pb_row background_position="top_left" background_repeat="repeat" background_size="initial"][et_pb_column type="2_3″][et_pb_text background_layout="light" use_border_color="off" module_class="blog-text" background_position="top_left" background_repeat="repeat" background_size="initial" _builder_version="3.0.98″]
China's banking regulator is increasingly showing its teeth, slapping a record amount of fines on financial institutions in the past several months for transgressions such as lax lending procedures and manipulating bad-loan data. Expect the unprecedented frenzy to continue.
The China Banking Regulatory Commission announced 3,452 penalties and confiscations of funds involving 1,877 financial institutions and totaling 2.93 billion yuan ($465 million) in 2017, a 10-fold surge from the previous year, according to official data. Some 270 banking executives were punished, including being banned from the industry for life, according to a CBRC official speaking on CCTV.
The frenzy continues this year, with an average 16 fines imposed every day of January.
The biggest of 2018 so far was levied against Shanghai Pudong Development Bank Co., fined 462 million yuan for what the CBRC termed "a well-organized fraud." Last Friday, the CBRC fined Industrial & Commercial Bank of China Ltd. and 18 other banks' branches in central China 52.5 million yuan for accepting low-quality gold as collateral for 19 billion yuan worth of loans, resulting in the banks being defrauded.
After his appointment last year as CBRC chairman, Guo Shuqing embarked on a campaign to root out malpractice in the $39 trillion banking industry, improve implementation of lending policies and curb cross-holdings of financial products. Unlike the internal reprimands often used by his predecessor, Guo has imposed stiff penalties on offenders, fired their executives and chose to disclose their violations to the public.
Scrutiny Continues
"The scrutiny will continue," said Chen Shujin, a Hong Kong-based analyst at Hua Tai Securities Co. "The regulators are particularly targeting internal controls and interbank activities."
Greater regulatory scrutiny could cut into banks' profitability by limiting their business opportunities, forcing them to bring more loans back onto their balance sheets and weaken capital strength, Fitch Ratings warned last month. Together with higher operational costs due to more stringent risk management and compliance, the overall impact is likely to be more significant than the direct fines, according to the ratings agency.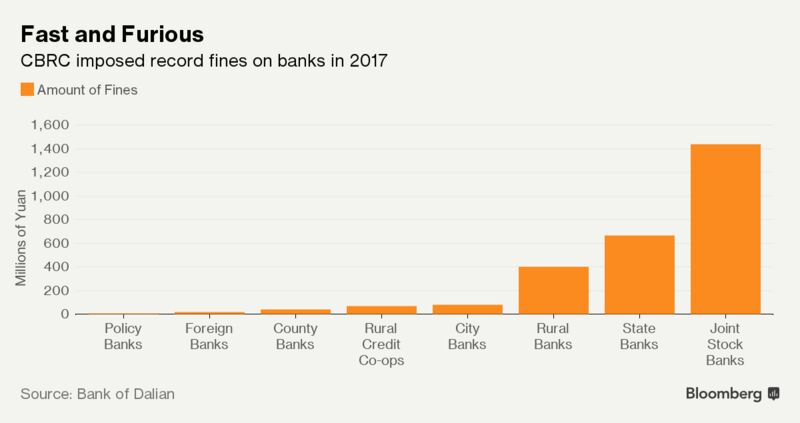 Here are the biggest fines levied by the CBRC in recent months:
Feb. 2
ICBC and 18 other banks' branches in Shaanxi and Henan provinces were fined 52.5 million yuan. The CBRC found the banks' lending procedures and assessment of the quality and value of collateral was lax in accepting substandard gold for 19 billion yuan worth of loans. The lenders' credit screening processes were "almost nonexistent," and some banks were too aggressive in chasing the speed and scale of their businesses, the CBRC said.
Jan. 27
Postal Savings Bank of China and 11 other banks were fined 295 million yuan for misusing funds raised from wealth management products and illegally cashing money out of bankers' acceptances, which are often used by lenders to guarantee future payments to exporters. The case exposed poor internal controls and compliance at the banks, while some individuals violated laws for personal gains, the CBRC said.
The penalty comes less than a month after the bank was fined 260.5 million yuan as part of a group of 13 banks fined a total of 680 million yuan for poor governance in relation to a coverup of nonperforming loans at Guangfa Bank Co. The banks also had to forfeit funds involved, bringing the total owed to the CBRC to 1.3 billion yuan.
Jan. 19
Pudong Bank was fined 462 million yuan after a branch in the western city of Chengdu was found to be hiding nonperforming assets by issuing a web of new loans. The case raised fresh doubts about the accuracy of financial and economic data reported by Chinese companies and even local authorities.
"This is a well-organized fraud engineered by Pudong Bank's Chengdu branch," the CBRC said in a strongly worded statement. "It involved a massive amount of money, used hidden schemes, and had profoundly damaging implications."
The Chengdu branch, which had mysteriously reported zero bad loans for years while other banks were struggling with rising defaults, funneled 77.5 billion yuan of illegal loans through 1,493 shell companies, and these entities in turn bought out Pudong Bank's original borrowers to conceal the fact that the loans had become nonperforming.
Dec. 8
Guangfa Bank was fined 722 million yuan. The branch in southern Huizhou city colluded with a borrower to cover up its own massive nonperforming assets and operating loss, the CBRC said.
The fraud, involving 12 billion yuan and implicating more than 10 other financial institutions, was a rare one in recent years, as the bank's staff faked corporate seals, illicitly provided guarantees on loans, disrupted the order in the interbank market, and caused risks to spread across the banking industry, according to the CBRC.
Three weeks later, the CBRC handed out another 1.3 billion yuan in fines and forfeitures to 13 financial firms involved in the case, including Postal Savings Bank, for poor internal governance.
[/et_pb_text][et_pb_text admin_label="Link/Source" background_layout="light" use_border_color="off" background_position="top_left" background_repeat="repeat" background_size="initial" _builder_version="3.0.98″]
With assistance by Jun Luo, and Alfred Liu
Source: Bloomberg
[/et_pb_text][/et_pb_column][et_pb_column type="1_3″][et_pb_code admin_label="Right Sidebar" saved_tabs="all" global_module="48″]Coming Soon[/et_pb_code][/et_pb_column][/et_pb_row][et_pb_row make_fullwidth="off" use_custom_width="off" width_unit="on" use_custom_gutter="off" allow_player_pause="off" parallax="off" parallax_method="off" make_equal="off" parallax_1="off" parallax_method_1="off" module_class="blog-more-articles-wrapper" background_position="top_left" background_repeat="repeat" background_size="initial"][et_pb_column type="4_4″][et_pb_text background_layout="light" text_orientation="left" use_border_color="off" border_color="#ffffff" border_style="solid" background_position="top_left" background_repeat="repeat" background_size="initial"]
Latest Articles
[/et_pb_text][et_pb_blog admin_label="Latest Articles" fullwidth="off" posts_number="3″ show_thumbnail="on" show_content="off" show_more="off" show_author="off" show_date="on" show_categories="on" show_comments="off" show_pagination="off" offset_number="0″ use_overlay="off" background_layout="light" use_dropshadow="off" use_border_color="off" border_color="#ffffff" border_style="solid" box_shadow_color="rgba(0,0,0,0.3)" box_shadow_style="none"]
[/et_pb_blog][/et_pb_column][/et_pb_row][/et_pb_section]