'Golden Period' Of Australian Banking Over, ANZ Bank Chief Says
[et_pb_section bb_built="1″ fullwidth="on" specialty="off" background_image="https://www.newsoncompliance.com/wp-content/uploads/2018/05/1x-1.jpg" parallax_method="off" module_class="blog-header" background_color="#ffffff" _builder_version="3.0.98″][et_pb_fullwidth_post_title title="on" meta="off" author="on" date="on" categories="on" comments="on" featured_image="off" featured_placement="below" parallax_effect="on" parallax_method="on" text_orientation="center" text_color="light" text_background="off" text_bg_color="rgba(255,255,255,0.9)" module_bg_color="rgba(255,255,255,0)" use_border_color="off" border_color="#ffffff" border_style="solid" custom_padding="100px||80px|" title_line_height="1.6em" parallax="on" background_color="rgba(255,255,255,0)"]
[/et_pb_fullwidth_post_title][/et_pb_section][et_pb_section bb_built="1″ admin_label="section" transparent_background="off" allow_player_pause="off" inner_shadow="off" parallax="off" parallax_method="off" custom_padding="20px||20px|" make_fullwidth="off" use_custom_width="off" width_unit="on" make_equal="off" use_custom_gutter="off" module_class="blog-content-wrapper"][et_pb_row background_position="top_left" background_repeat="repeat" background_size="initial"][et_pb_column type="2_3″][et_pb_text background_layout="light" use_border_color="off" module_class="blog-text" background_position="top_left" background_repeat="repeat" background_size="initial" _builder_version="3.0.98″]
A two-decade "golden period" for Australian banks is coming to an end as increased competition and the potential for tougher regulation weighs on growth, according to the chief executive officer of the nation's fourth-largest lender.
"Our sector has had a golden period for 20-plus years and we don't think that's going to continue," Australia & New Zealand Banking Group Ltd. CEO Shayne Elliott said Tuesday after the bank posted a small increase in first-half profit. "In a tough world, only the fit will really survive and prosper."
Australia's big four banks are grappling with the fallout from an inquiry into misconduct in the financial industry, which has uncovered a litany of wrongdoing, from lying to regulators, falsifying documents and taking bribes, to extracting fees from customers long since dead.
The revelations have hit shares of the banks, as investors price in the potential for tougher regulation and higher compliance costs.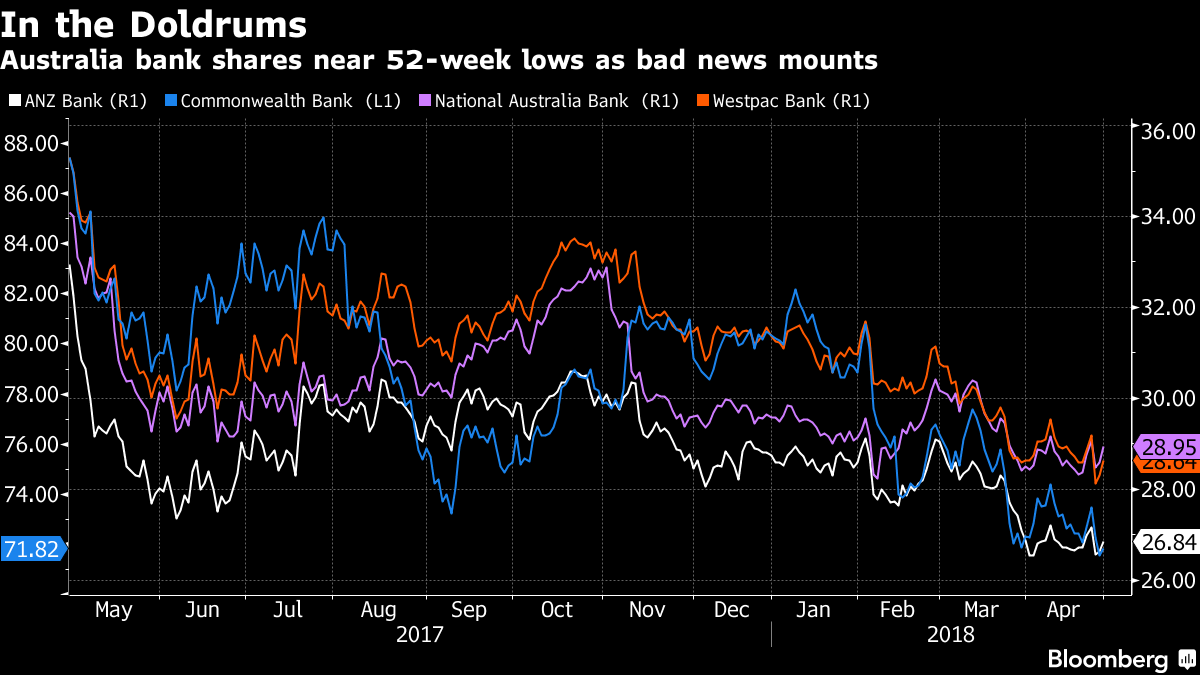 Commonwealth Bank of Australia today was hit with a A$1 billion ($753 million) add-on to its minimum capital requirement after a report by the banking regulator into its money-laundering scandal.
The inquiry will continue to "have an impact" on the financial industry, Elliott said. "I imagine there will be lots of changes that ourselves and other participants will make over time," he said.
External legal costs for the inquiry will be about A$50 million this fiscal year, the bank said.
ANZ Bank's unaudited cash profit from continuing operations rose 4 percent to A$3.49 billion in the six months ended March 31, from A$3.36 billion a year earlier, the Melbourne-based bank said in the statement.
To simplify the bank, Elliott is selling ANZ's retail businesses across the Asia-Pacific region and focusing on its home markets. Most recently, it sold its life insurance unit to Zurich Insurance Group AG and parts of its wealth management business to IOOF Holdings Ltd. However, the sale of New Zealand asset-finance unit UDC to Chinese conglomerate HNA Group Co. was blocked by regulators in December.
"We are now benefiting from a more focused organization," Elliott said.
[/et_pb_text][et_pb_text admin_label="Link/Source" background_layout="light" use_border_color="off" background_position="top_left" background_repeat="repeat" background_size="initial" _builder_version="3.0.98″]
Author: Emily Cadman
Source: Bloomberg
[/et_pb_text][/et_pb_column][et_pb_column type="1_3″][et_pb_code admin_label="Right Sidebar" saved_tabs="all" global_module="48″]Coming Soon[/et_pb_code][/et_pb_column][/et_pb_row][et_pb_row make_fullwidth="off" use_custom_width="off" width_unit="on" use_custom_gutter="off" allow_player_pause="off" parallax="off" parallax_method="off" make_equal="off" parallax_1="off" parallax_method_1="off" module_class="blog-more-articles-wrapper" background_position="top_left" background_repeat="repeat" background_size="initial"][et_pb_column type="4_4″][et_pb_text background_layout="light" text_orientation="left" use_border_color="off" border_color="#ffffff" border_style="solid" background_position="top_left" background_repeat="repeat" background_size="initial"]
Latest Articles
[/et_pb_text][et_pb_blog admin_label="Latest Articles" fullwidth="off" posts_number="3″ show_thumbnail="on" show_content="off" show_more="off" show_author="off" show_date="on" show_categories="on" show_comments="off" show_pagination="off" offset_number="0″ use_overlay="off" background_layout="light" use_dropshadow="off" use_border_color="off" border_color="#ffffff" border_style="solid" box_shadow_color="rgba(0,0,0,0.3)" box_shadow_style="none"]
[/et_pb_blog][/et_pb_column][/et_pb_row][/et_pb_section]