Money Launderers Leave A Stench In Hong Kong's Enforcement Charade
[et_pb_section admin_label="Section" fullwidth="on" specialty="off" background_image="https://www.newsoncompliance.com/wp-content/uploads/2017/11/scmp_31dec13_ns_police3_sam_4414a_40063805.jpg" transparent_background="off" allow_player_pause="off" inner_shadow="off" parallax="off" parallax_method="off" make_fullwidth="off" use_custom_width="off" width_unit="on" make_equal="off" use_custom_gutter="off" module_class="blog-header"][et_pb_fullwidth_post_title admin_label="Fullwidth Post Title" title="on" meta="off" author="on" date="on" categories="on" comments="on" featured_image="off" featured_placement="below" parallax_effect="on" parallax_method="on" text_orientation="center" text_color="light" text_background="off" text_bg_color="rgba(255,255,255,0.9)" module_bg_color="rgba(255,255,255,0)" use_border_color="off" border_color="#ffffff" border_style="solid" custom_padding="100px||80px|" title_line_height="1.6em"] [/et_pb_fullwidth_post_title][/et_pb_section][et_pb_section admin_label="section" transparent_background="off" allow_player_pause="off" inner_shadow="off" parallax="off" parallax_method="off" custom_padding="20px||20px|" make_fullwidth="off" use_custom_width="off" width_unit="on" make_equal="off" use_custom_gutter="off" module_class="blog-content-wrapper"][et_pb_row admin_label="Row"][et_pb_column type="2_3″][et_pb_text admin_label="Text" background_layout="light" text_orientation="left" use_border_color="off" border_color="#ffffff" border_style="solid" module_class="blog-text"]
A news story is the opposite of a Swedish novel. With Stieg Larsson, you get 300 pages of character development before the first clue to the crime. With a news story you are meant to find out who did it in the first paragraph.
This makes our account of the latest piece of government puff-puff on money laundering appear rather odd. It was done Swedish style. The big clue to what is happening came near the end.
There, it was revealed that all the talk of co-operation with Macau and the setting up a task force to deal with intelligence on dirty cash flows "comes ahead of a key visit early next year by an audit team from the Financial Action Task Force…"
My, my, we are to have a meeting of the task forces. How they love the naval idiom in these financial police agencies.
But let me not disparage the weaponry of FATF, which was established in Paris by the G7 group of countries in 1989 to do battle against dirty money.
Life can be made very difficult for any place that thinks of itself as a financial centre, if FATF deems that place non-compliant with its strictures.
Hong Kong is a member and was last the subject of a full audit in 2012, at which time we were patted on the back as having generally done a good job, except that we needed to improve our procedures for freezing bank accounts and do something about large cash movements across the border with the mainland.
Now we must prepare for another audit. Thus, break out the champagne bottle to relaunch the good vessel Bafflegab in the cause of enforcing righteousness (and rich country tax collections).
For we indeed have a problem. As the chart shows, private capital inflows and outflows each amounted to more than 100 per cent of gross domestic product on three occasions over the last 10 years and are at all times almost perfectly matched.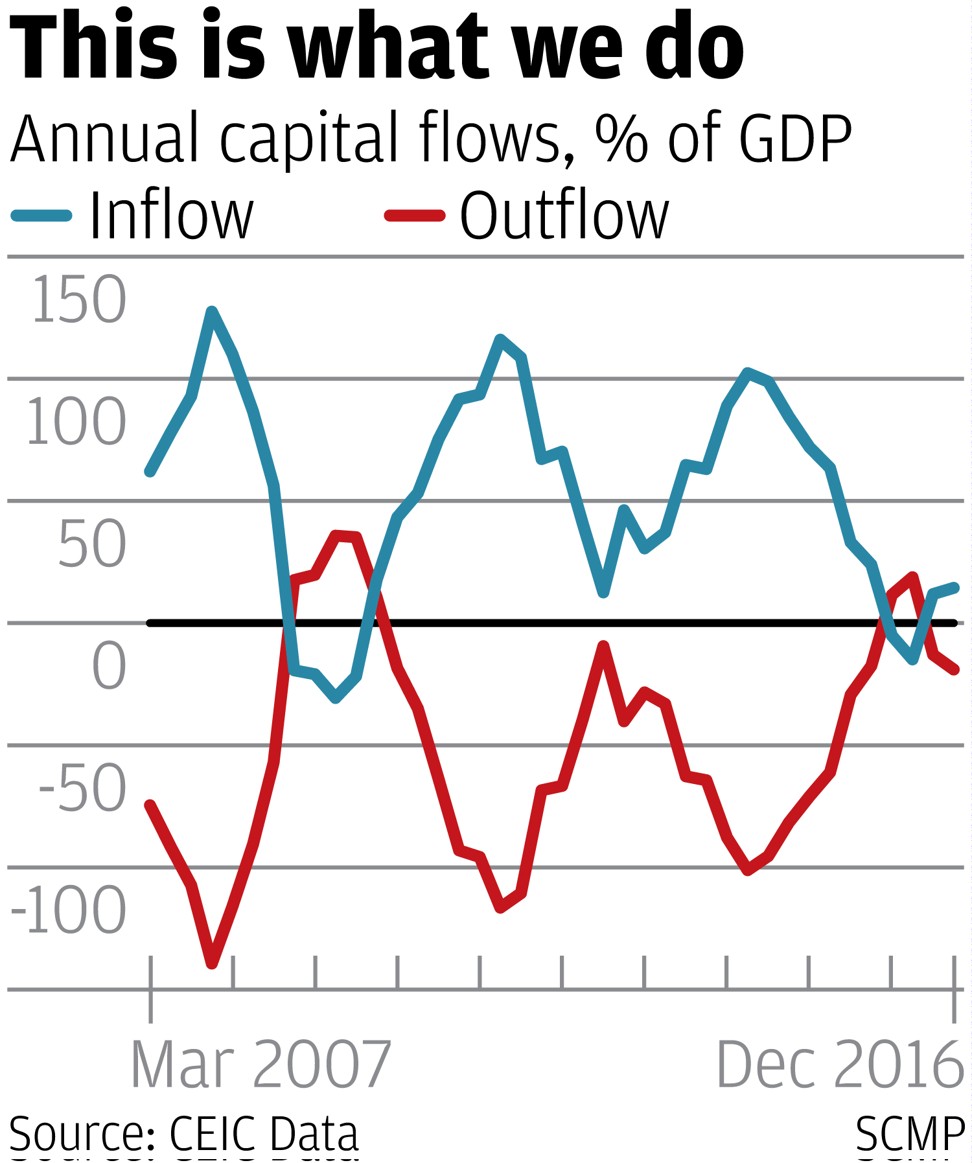 The more normal pattern for a more normal economy might be inflows and outflows equivalent to about 5 per cent of GDP and they would not be matched.
What we have here, in other words, is evidence of cross-border money laundering as strong as the proverbial blood-stained knife in a murder trial. And it is gigantic in scale. The money comes in dirty in the hundreds of billions of dollars and goes right back out again clean.
But we also have our ways of diverting attention from the hard evidence. Money laundering is defined as dealing in the proceeds of crime, but our law does not require proof of any underlying crime.
When charged, it is enough that you handled money as a money launderer might do. That makes you guilty.
If I had to send people to long jail terms in such a miscarriage of justice, I would first send someone to my home to remove all the mirrors so that I would have less of a chance of seeing myself for the next few years. I wonder if any of the judges who did it have as much self-respect.
Because they have indeed done it. In our jails, we have a number of cross-border cash couriers whose only offence was reluctance to divulge their sources of cash. How many I cannot say. No underlying crimes were ever proven.
But it goes over well with FATF. We're tough on money laundering. Look how many people we have sent to jail for it. Now give us our certificate of compliance.
And don't bring your noses closer, please. This stinks.
Source: SCMP
[/et_pb_text][et_pb_text admin_label="Link/Source" background_layout="light" text_orientation="left" use_border_color="off" border_color="#ffffff" border_style="solid"] [/et_pb_text][/et_pb_column][et_pb_column type="1_3″][et_pb_code admin_label="Right Sidebar" saved_tabs="all" global_module="48″]Coming Soon[/et_pb_code][/et_pb_column][/et_pb_row][et_pb_row admin_label="Row" make_fullwidth="off" use_custom_width="off" width_unit="on" use_custom_gutter="off" allow_player_pause="off" parallax="off" parallax_method="off" make_equal="off" parallax_1="off" parallax_method_1="off" module_class="blog-more-articles-wrapper"][et_pb_column type="4_4″][et_pb_text admin_label="Text" background_layout="light" text_orientation="left" use_border_color="off" border_color="#ffffff" border_style="solid"]
Latest Articles
[/et_pb_text][et_pb_blog admin_label="Latest Articles" fullwidth="off" posts_number="3″ show_thumbnail="on" show_content="off" show_more="off" show_author="off" show_date="on" show_categories="on" show_comments="off" show_pagination="off" offset_number="0″ use_overlay="off" background_layout="light" use_dropshadow="off" use_border_color="off" border_color="#ffffff" border_style="solid"] [/et_pb_blog][/et_pb_column][/et_pb_row][/et_pb_section]